Knowledge & Support 
Biodiversity and Hotels: Enemies or best friends?
Guest editorial by Dr. Frauke Fischer (Agentur Auf)
Those, who are not on the road for professional reasons, travel for relaxation, inspiration or to broaden their own horizons. Tourists want intact and diverse environments. Animals and the ecosystems in which they live are a major reason for travelling in an estimated 20 - 40% of the worldwide tourism business [1]. Tourism is therefore dependent on biodiversity.
Biodiversity or biological diversity is more than species diversity; it also encompasses the diversity of genes (more than seven billion people, of whom hardly two are the same as one egg to another, is evidence of this) and of ecosystems (e.g. rainforests, coral reefs or deserts). Ecosystems, on the other hand, are not only a tourist attraction, but also provide a variety of services for people. These include keeping the air and water clean, providing fertile soil or producing building materials such as wood. Nature makes these available to us free of charge. But the combination of zero costs and great service makes species and ecosystems vulnerable to overexploitation. This overexploitation takes place almost everywhere in the world and has led to biodiversity and ecosystem services being threatened worldwide.
The situation is so dramatic that, according to many scientists, we are currently in the first mass extinction of world history after the extinction of the dinosaurs. Resorts and hotels have negative effects on biodiversity.
Infrastructures, CO2 emissions, food waste, the production of enormous amounts of waste, increased water and energy consumption, and so-called overtourism all contribute to the destruction of biodiversity.
Here are a few examples:
damage to coral reefs by inexperienced divers
local forest areas are dying due to excessive water consumption by hotels
construction at nesting beaches of sea turtles
food waste
sealing of areas for hotel parking spaces
menus with an emphasis on exotic and non-seasonal dishes
planting of the hotel complex with exotic plants
too frequent mowing of open areas
The good news is that protecting biodiversity is creating a win-win situation for hoteliers. After all, those who preserve ecosystems and biodiversity will also be attractive as holiday destinations. Biodiversity and attractiveness go hand in hand.
When a hotel is built or converted, expert advice ensures that the negative consequences for biodiversity remain low or even that positive effects are achieved. The design of hotel facilities that promotes biological diversity increases the well-being of guests and contributes to a positive experience.
Examples are:
hotel complex is planted with a large number of different indigenous species, all of which are rich in structure
provision of nesting aids for birds and insects
use of environmentally friendly building materials own garden, which provides flowers for decoration purposes and workshops on the subject of flower tying
planting of herbs and vegetables for use in the own gastronomy
a natural pool (swimming pond) without chemicals
planting of walls/roofs with native plant species
production of own infusions with domestic herbs
inclusion of environmental topics in the Kids Club
construction of an "insect hotel"
production of own honey and creation of flower strips
In day-to-day business, sustainable procurement and the use of regional supply chains can promote biodiversity. This applies to the purchase of food (what, where from, how much?), but also operating supplies & equipment and furniture, fixtures and equipment (durable, locally produced).
However, internal and external communication is also particularly important. Employees should be trained in such a way that they can answer questions from guests competently and credibly and thus become ambassadors of biodiversity. Such commitment can have a positive effect on employee identification and strengthen the relationship between the team and the company.
Guests want experience, recreation, community and well-being. They appreciate a commitment to biodiversity, especially since the recent report on global biodiversity by the World Biodiversity Council [2]. The warning of mass extinction has contributed to raising awareness of the problem and has caused much concern and outrage. Guests want to behave correctly, but need to rely on the expertise of the local host. Every ecosystem is special and worth discovering. It does not always have to be coral reefs or rainforests associated with long-haul flights. Also the local forest, the lake in the next village or local beaches can increase the well-being and be a real experience. Dedicated tours, workshops and events can make biodiversity part of the offer and cause differentiation.
How the protection of biodiversity can increase employee satisfaction and the guest experience should become the starting point for innovations. How can I optimize my supply chains? How can I expand my offerings? How can I protect nature around me? What do I need to know? Commitment to protecting biodiversity shows a sense of responsibility and a focus on the needs of guests and employees. It is a win-win through and through. Every contribution counts.
[1] Filion FL, Foley JP, Jacqemot AJ. The economics of global ecotourism. In: Munasinghe M, McNealy J, editors. Protected Area Economics and Policy: Linking Conservation and Sustainable Development. Washington, DC: The World Bank; 1994. pp. 235–52.
[2] ipebs; 2019 
Summary: 
Biodiversity is the diversity of life at the level of genes, species and ecosystems and thus the basis of our lives and economies. Biodiversity is threatened worldwide. According to the latest scientific findings, we are currently experiencing the greatest mass extinction since the disappearance of the dinosaurs.
Hotels that take measures to protect biodiversity also promote the guest experience. Commitment can also have a positive effect on employee satisfaction and attractiveness as an employer.
Particularly sensitive and at the same time predestined areas for appropriate measures include construction and renovation, the procurement of food and non-food products, water and energy efficiency, the avoidance of waste and the training of employees.
In addition, the expansion of a corresponding program for guests is worth having a look. Every ecosystem is attractive and can be part of a positive guest experience.
Got an opinion on this? 
Happy to hear from you!

Contact us
You'd like to work or with us?
Here you find our agency

You want to find products for your sustainable hotel?

Our Marketplace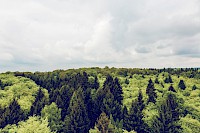 Biodiversity is livelihood. And shall be protected - also by the hotel industry!