Consultancy project
Benediktiner Weißbräuhaus
In the summer of 2019, we started our first trip to Frankfurt with a suitcase full of content, design-thinking methods, notes and pens. Together with the team around Tim Plasse we wanted to design the sustainable mission statement of the Benediktiner Weissbräuhaus in Gießen. We were baffled by so many creative ideas and critical thoughts about future plans, objectives and sustainability measures. 
The Benediktiner Weissbräuhaus is a very special concept. With clear values based on the centuries-old Benedictine order, Tim has set himself the goal of inspiring and changing the gastronomy industry for the long term. "For only those who give good things, good things can happen." Values such as respect and community, environmental protection and a life in harmony with nature as well as the use and enjoyment of high-quality products have always been the principles of the order's brothers - and equally the key to sustainable hospitality. 
Together we have drafted a sustainability charter for the Benediktiner Weissbräuhaus in Giessen. Various fields of action and corresponding sustainability measures and goals combine traditional values with modern social requirements. The health and well-being of guests, employees and staff is our number one priority. From furnishing with natural materials, food waste and circular solutions to the impact of dishes on the menu.
Our input
-Conception of workshops for the development of a sustainability mission, with associated fields of action, objectives and first identification of measures. 
-Creation of a multi-level, trend-setting sustainability strategy with related fields of action, objectives and concrete measures. 
-Manuals on topics of sustainable establishment and procurement, as well as sustainable storytelling and communication. 
Methodology 
Kick-off workshop with theoretical introduction to sustainability and initial brainstorming on a possible sustainability mission; Best practice analysis of sustainable catering concepts; In-depth workshop with focus on the creation of the sustainability mission and elaboration of an action plan with fields of action, measures and objectives; Development of a sustainability communication strategy; Further materials on sustainable purchasing and procurement
"Most ♡ Idea of the Project"
Better together! Lifelong learning is a principle that is very important to the Benedictines and the Weissbräuhaus. As a place of experience and exchange, Tim and his team want to promote a social interaction that touches people's hearts and educates guests about sustainability, environmental protection, cohesion and diversity.
Quote TUTAKA
Charlotte about this project: "When tradition meets modernity, incredibly beautiful and inspiring stories can be created. Just like at the Benediktiner Weißbräuhaus. We had a wonderful working relationship with Tim and his team and still float on cloud nine when we think of the many creative minds and the ideas that came up. We can't wait to enjoy a feast full of fresh and healthy dishes at your place soon". 
Tim Plasse on the cooperation of TUTAKA
"It is the dedication, deep conviction and sincere attitude of Alexandra, Franziska and the TUTAKA team that also makes me believe that sustainable hosting is possible". 
Client: Bitburger Braugruppe with the catering manager and concept developer Tim Plasse and its new opening of the Benediktiner Weissbräuhaus in Gießen, Germany. 
What they do: This winter (January 2021) the gates of the Alte Post in Gießen will open with the Benediktiner Weissbräuhaus. Following the Benedictine tradition, guests are invited to feast, enjoy, drink and stay. Freshly renovated, the Alte Post shines in new splendour and combines a sustainable catering concept with digitalised processes. The restaurant is transformed into a place of exchange and learning, where employees, guests and partners become accomplices of the Weissbräuhaus' sustainable mission.
Why they do it: It is the mission of Tim and the Benediktiner Weissbräuhaus to inspire the gastronomy industry with clear values and social responsibility. For centuries, it has been firmly anchored in the history of the company to treat people and nature with respect and to use high-quality products for high-quality indulgence. 
Sustainability Keywords: Sustainable catering, sustainable procurement, sustainability mission statement, fields of action, sustainability measures, objectives, sustainability communication strategy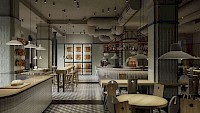 On 730 square metres, with 433 seats inside and outside, its own bakery and herb garden, a beer lounge and a restaurant, the Benediktiner Weißbräuhaus will open its doors in Gießen in November 2020. With holistic sustainability, every visit becomes an experience. (© Benediktiner Weißbräuhaus)
With design-thinking methods towards a sustainability mission! We like to design our workshops with plenty of time for co-creation. In this way we collect creative ideas and input from participants and together develop many practical results. (© TUTAKA)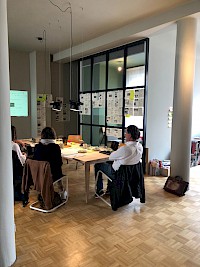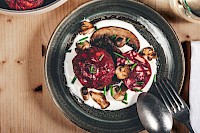 You eat with your eyes first! Colourful, healthy dishes that tell stories with their ingredients. Regional, fair and organic food makes your mouth water just by looking at it. (© Benediktiner Weißbräuhaus)