CONCEPT DEVELOPMENT & FULL SERVICE PROCUREMENT
c/o cabanas
Comporta in Portugal is a magical and inimitable place. Think wild nature, pinetrees, wide plains, white beaches warm-hearted and buzzing local community. No wonder we fell in love with the place when we first visited it with our client in 2018.
Since then we have been co-developing three holiday cabanas residing in Brejos, a small town in the region of Comporta, an hour South of Lisbon. The holiday homes are accompanied by wild pine trees, rice field views, the Atlantic sea scent in the air and an unspoilt natural park of 7.600 square meters.
Up to four unwinders and explorers can stay in these ecological role model houses. They are a symbiosis of an innovative energy concept, well-chosen natural building materials (heads up to Architect Therezia Sloet tot Everlo), sustainable interior and décor with resource gentleness, plastic minimization and good materials at its core.

The name "c/o cabanas" has been with great thought: co are the initials of the owner. It also stands for "taking care of" - taking care of you, nature, traditions...
The TUTAKA team developed a supplier code of conduct and took over the complete procurement of sustainable products. In addition, a communication concept including the brand name and creation of the brand identity was developed. We were also responsible for the web design and programming.
Find more info here: www.co-cabanas.com
Client: c/o cabanas, Comporta (Portugal)
What they do: Holiday houses for a total of 4 persons
Why they do it: For all those seeking refuge in pure nature paying tribute to design and sustainability
Sustainability Keywords:
Considerate supply chains, local procurement, code of conduct, organic cotton, plastic reduction, sustainability role model
Methodology: Several workshops with different focus areas (mainly communication, sustainability strategy and procurement), desk and primary/ on-site research
Want to find out more about the project? Get in touch. 
"The client, the architect and ourselves had the highest sustainability ambitions for the project. You can see, feel, smell, hear and touch the result. 360° sustainable holiday houses that take care of ecoistic guests!" TUTAKA team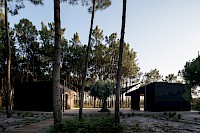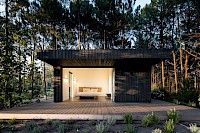 Organic cotton bed linen, natural mats, a wooden bed from a local carpenter...
A table from Mircea Anghel from CABANA STUDIO Lisbon.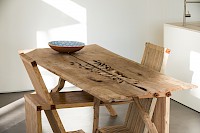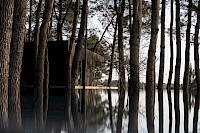 "A series of minimalist black cabins – a great weekend retreat for a refreshingly simple life."
Wallpaper* magazine, May 2019