Consultancy project
Greentable x UBA
How do we develop a sustainable tool from practice for practice? This is roughly how our telephone conversation with Matthias from Greentable started when we planned our joint Design Thinking workshop a few months ago. Thwarted by the Covid 19 pandemic, we postponed the workshop from April to October and met with 13 trainees outside Berlin on the Spree to find practical solutions.
 
After a very short time, the white walls of our conference room were peppered with postits of all kinds and colours. On them were starting points, ideas and problems: from unnecessary food waste to staff training and excursions to producing companies such as slaughterhouses or farms, to motivating team duels about the best sustainability knowledge. 
 
We led the participants through various "prototyping" rounds, always aiming to give impulses and to act outside of established thought patterns. We started with a warm-up and then went into the first round of brainstorming with fresh thoughts. Since the motto was "quantity before quality", the participants selected the best ideas in a second step using the "dotmocracy" method. With a "Deep Dive", there was then enough time to develop a first prototype. As a crowning finale to our day together, the three teams ceremoniously presented their solutions in front of the assembled group. We are looking forward to seeing one of the three solutions for a more sustainable gastronomy in action. Because thanks to UBA, the resources are ready to put one of the products into action
Our input
- Designing and leading a 1-day design thinking workshop with the question: What would a concrete tool look like that supports restaurateurs to work more sustainably?
- Accompaniment during the brainstorming and guidance of prototyping rounds. 
Quote TUTAKA
Charlotte about this project: "For more than 6 hours, the room in the beautiful environmental education centre in Berlin was buzzing with creative thoughts and intense discussions. We had a lot of fun, together with Matthias and Jan-Peter from Greentable, watching and guiding young talents from the catering industry to turn their industry upside down with future-oriented ideas." 

Tim Plasse on the cooperation of TUTAKA
Franziska and Charlotte really know what they are doing. Competently and sympathetically, they inspire for the topic of sustainability and bring out hidden potentials from the participants. With our workshop, we were able to develop creative and practical solutions for knowledge transfer in the industry and set important impulses for sustainable gastronomy. 
Client: Matthias Tritsch from Greentable together with the German Federal Environmental Agency (UBA). 
What they do: Permanently on offer: a sustainable menu. Regional and seasonal dishes, social commitment and climate protection add the right seasoning. As an initiative for sustainability in gastronomy, Greentable offers a seal of quality and security for suppliers and customers to combine enjoyment with responsibility. 
Why they do it: Greentable's mission is to inform, motivate and raise awareness about a sustainable lifestyle. In this way, restaurateurs, chefs, employees, consumers and producers become accomplices in lasting, sustainable transformation processes.
Sustainability Keywords: Sustainable Gastronomy, Sustainable Procurement, Transparent Procurement, Vegetarian, Vegan, Local, Seasonal, Supply Chains, Organic, Zero-waste, Sustainability Training
Methodology: Design-Thinking Workshop mit Anleitung zur Co-Kreation: Apple Drawing Ideation; Tools Ideation; Dotmocracy; Kill your Darlings; Rapid Prototyping; "I like, I wish, I wonder" Feedback.
"Most ♡ Idea of the Project": Cooking with valuable food "leftovers", online and on-demand. An app-based sustainability quiz for the whole team with opportunities to play against the dearest competitor. A platform to connect buyers with customers of sustainable and regional food. So many great ideas and discussions emerged after just a few hours of collaboration - we can't decide on one!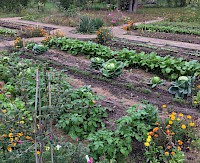 From our conference room we could look out onto this vegetable garden. How fitting to have the seasonal cabbage right outside the door when talking about creative ideas that pave the way towards sustainability in the gastronomy industry. 
Design thinking methods such as "rapid prototyping" were part of the package this time. Our workshop focused on the practical conceptualisation of ideas. At the end of the day, the participants were able to present a very concrete first archetype. (© TUTAKA)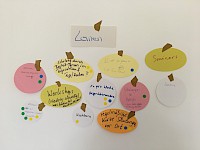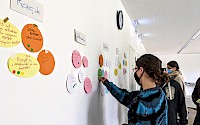 13 trainees, three small groups and many good ideas later. After only a few hours of collaboration, lively discussions and feedback rounds, three product ideas prevailed. (© Greentable)