Knowledge Workshop & Panel
Kunsthaus Dresden
The organizers of the Cultural Capital Dresden 2025 are committed to the principle of consistent waste minimization. They want to reduce the use of material resources and minimise the amount of "residual waste" left behind. In order to achieve this goal, they are guided by the maxim set out in the Dresden Waste Manifesto. The Kunsthaus Dresden is aware that they have to ask themselves pressing ecological questions. In order to implement the process of implementing the visions for 2025, the cultural institution organises workshops with various focal points. TUTAKA was invited to lead one of the workshops.
"Neighbourhoods 2025 is a joint manufactory for visions and an invitation to city society and experts in culture and everyday culture from various fields to work together to develop new exemplary formats for European cultural work on the occasion of Dresden's forthcoming application for the European Capital of Culture."
Why?: Dresden applies for the title "European Capital of Culture 2025". On this occasion, the Kunsthaus Dresden together with other actors and experts developed a project within the framework of NACHBARSCHAFTEN 2025, which is entitled ALLES MÜLL?.
Sustainability Keywords: Education, sustainable procurement, code of conduct, waste reduction
Our input: Introductory workshop on "Sustainable procurement and communication", Public panel discussion on the Dresden "Müllmanifesto", Execution of interactive part "Sustainability & Clichés, Solutions & Ideas".
Methodology: Lecture, clichéing and speed dating brainstorming
Want to find out more about the project? Get in touch. 
"It was a great pleasure to be part of this project group, which sets the course for a future-oriented, circular cultural work and prepares it for the discourse." Alexandra Herget, TUTAKA
On the picture: Lunch with valuable "remains"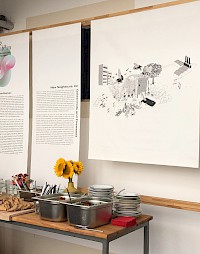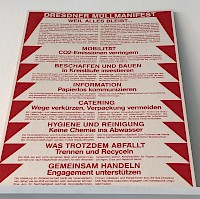 "The cooperation so far has been a great pleasure, and we look forward to further opportunities." Christiane Mennicke-Schwarz, director Kunsthaus Dresden
On the picture: Dresdener Müllmanifest